Downtown Frederick business uses art to raise money for hungry kids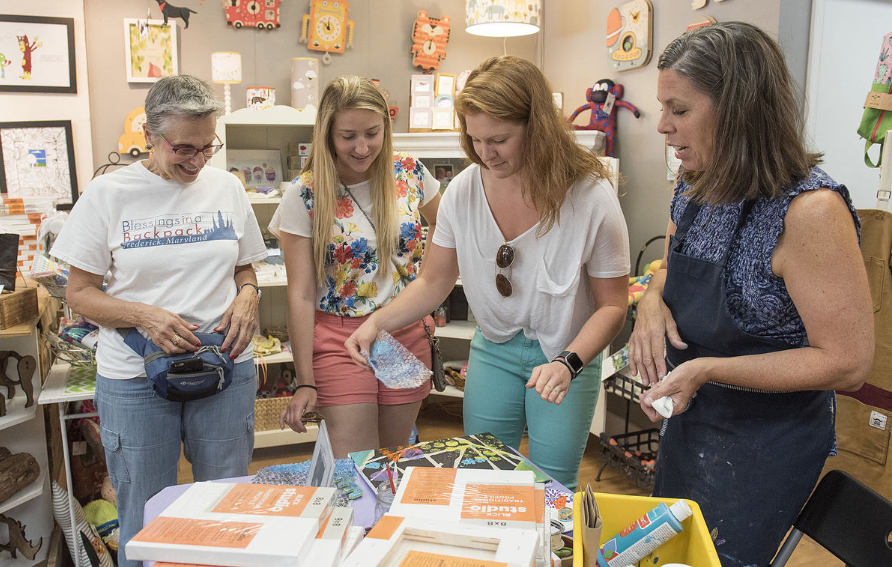 By Ryan Marshall, The Frederick News-Post
A downtown Frederick store is using art to raise money to help feed local children.
The Muse, at 19 N. Market St., is selling canvases that professional, aspiring or amateur artists can use to create a painting, which will be auctioned off to provide money for the nonprofit charity Blessings in a Backpack. The charity helps provide food for children who receive free or reduced-price meals at school when school is not in session.
The canvases are $20, which goes to the charity, and can be bought at the store, owner Whitney Dahlberg said Saturday.
Artists have until Aug. 31 to finish their works of art, which will then be sold in a silent auction to raise more money for the charity in October.
The shop will sell a canvas to anyone who wants to buy one, and that person can incorporate it into their artwork any way they'd like, Dahlberg said.
Dahlberg said she and artist Courtney Prahl started the Lend a Hand Art Auction idea about six years ago, and each year they pick a different charity to benefit.
They usually raise about $5,000 or $6,000, she said.
Last year they sold more than 100 canvases, and they've already sold almost 100 this year.
Blessings in a Backpack provides nonperishable, easy-preparation food to make sure children are fed when they're not in school, said Hermine Bernstein, the program coordinator for the organization.
By September, the nonprofit will be serving more than 2,000 students in 14 Frederick County schools, she said. More than 11,000 of Frederick County Public Schools' more than 41,000 students qualify for free or reduced-price meals, according to Bernstein.