Setting Up Your Giving Tuesday Fundraiser

Host a peer-to-peer fundraiser on our new program-giving website, giving.blessingsinabackpack.org. Name the fundraiser, set a goal, and share the link with your friends and family through email and social media.
Click the yellow "Sign Up" button to start a Giving Tuesday fundraiser.
Complete the mandatory fields like name and email address. It's optional to name the fundraiser. If you're raising money for a specific program, include that in the "Campaign Name" or search for your program. (See instructions below for how to search and fundraise on a program's profile.)
You will receive an email that includes a a link to share your fundraising page. The goal automatically sets for $500.
To edit your peer-to-peer campaign, visit your fundraising dashboard. You can add a picture, story of why you're fundraising for Blessings in a Backpack, donate to your campaign, and more.
If you're raising money for a specific Blessings in a Backpack program: 
In the search bar at the top of the page, type in the program or school name or city and state. Click on the magnifying-glass icon.
Programs that meet the criteria will populate. If you find your local program, click "view." Note: Not all programs will have a giving page at this time, as we're diligently working to approve profiles. You can still fundraise for your local program using the instructions above.
In the yellow bar, below the cover photo, click on the red "fundraise" button.
Complete the steps 3–5 above.
If you need help setting up your peer-to-peer fundraiser, click on the blue icon in the bottom left-hand corner of your screen. A chat box will open and you can send a message or search for help.
Fill in the blanks, including the "Goal Amount" and "End Date" for your fundraiser. Remember, you will receive an Alex and Ani cuff if you raise more than $300. We recommend making your goal $500 if you have more than a few hundred Facebook friends. Tip: Consider ending your fundraiser a day or two after Giving Tuesday (November 28) as some people will donate on Wednesday or Thursday.
Create your "Fundraiser Title." If you're raising money for a specific program, include that in the title. For example, "Buddy's Giving Tuesday fundraiser for Blessings in a Backpack at ABC Elementary/City."
Tell your friends why you chose to support Blessings in a Backpack in the "Description" box. If you can, include a personal note. Find suggested wording in the blue box below.
Click "Create." Wait for the next screen to load. A pop-up will appear. Then click "Get Started." You will be asked to invite your friends. Clicking "Invite" next to your friend's name will let them know you created this fundraiser. We recommend inviting everyone! You never know when an old friend or family member will decide to donate to your cause.
Facebook will then prompt you to share the fundraiser on your timeline. Here's your opportunity to write a short note asking friends to support Blessings.
Finally, you will be prompted to make a donation. While you don't HAVE to, starting your fundraiser off with a donation makes it more likely others will donate. It shows you care enough to donate yourself.
You can always return to your fundraiser page by finding "Fundraisers" on the left-hand side of your Facebook timeline. From there, you can share it to your timeline and post updates. Click here to learn more about Facebook Fundraisers. 
On Instagram, you can create a fundraiser and share it with a feed post or reel. The fundraiser will be visible in your post and you can find a link to the fundraiser in your bio.
Open Instagram and tap .
Create or choose your image and tap Next.
Crop and filter your post, and then tap Next.
Tap Add fundraiser.

Choose the nonprofit you want to fundraise for. You'll automatically go to the "Fundraiser Details" page.

Enter the details for your fundraiser and then tap Done. If you're raising money for a specific program, include that in the title. For example, "Buddy's Giving Tuesday fundraiser for Blessings in a Backpack at ABC Elementary/City." Set the goal amount for $300 or more. 
Tap Share.
The fundraiser will be active for 30 days. You can extend the fundraiser duration or end it at any time. Click here to learn more about Instagram Fundraisers.
You can also include a donation badge in your Instagram Story to ask followers to donate in support of Blessings in a Backpack, and setting it up is easy! Watch the video below to learn more; an example of an Instagram story with the donation badge and our tags is to the right.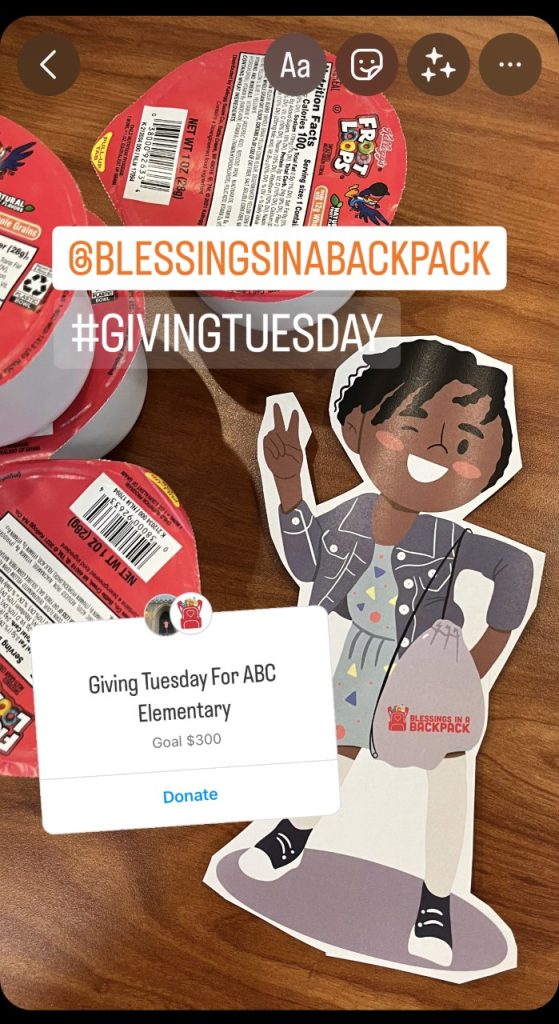 Meta no longer covers payment processing fees for donations. Donations made on Facebook or Instagram will be subject to a payment processing fee charged by the third-party payment processor.
For donations in the United States, the payment processing fee structure is 1.99% + $0.49.