Blessings in a Backpack pop-up outdoor events help feed hungry kids, reunite volunteers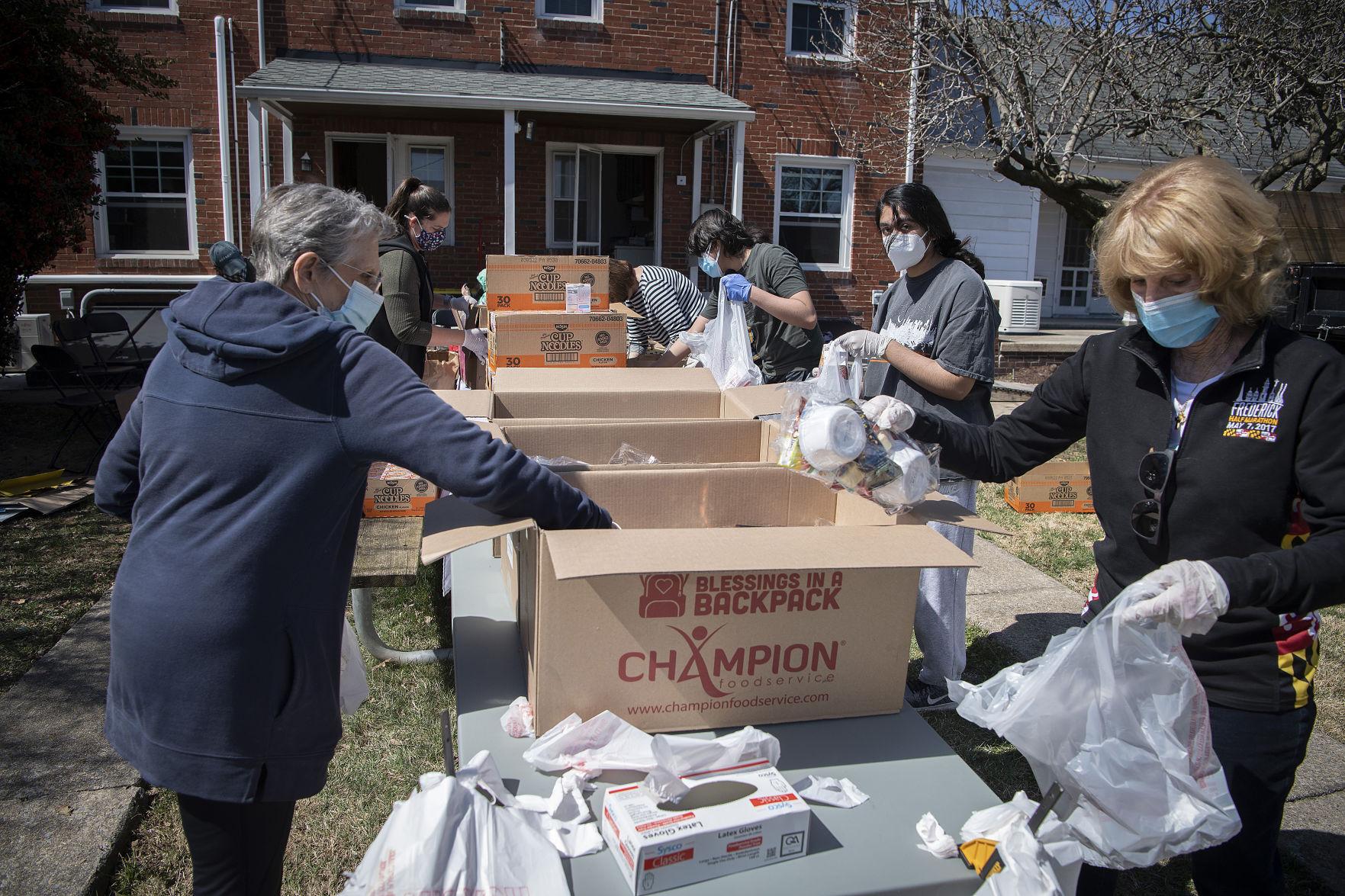 By Mary Grace Keller via fredericknewspost.com
At a pop-up food packing event outside Frederick Blessings in a Backpack's office Monday, volunteers filled bags with an extra spring in their step, happy to see each other in person for the first time in quite a while.
Volunteers for the nonprofit, which provides thousands of local children with bags of food in their homes, faced a challenge after the COVID-19 pandemic made it difficult for them to gather, Program Director Angela Abrishami said. Now that the weather is warming up, and people are getting vaccinated, she said they've started holding outdoor pop-up packing events in small groups.
"It was something that came about because we have a lot of older volunteers that miss packing," Abrishami said. "There is a fellowship when you pack together."
Hermine Bernstein, the local organization's founder, recently came to Abrishami asking if there was a way she could pack bags with her friends again. They set up shop behind their 1016 N. Market St. office, bringing in small groups of volunteers. Monday marked the third run at this new style, working in two groups in the morning and afternoon.
"On a bright sunny day like today it really brought a lot of joy to some of our volunteers," including those they hadn't seen face-to-face in a year, Abrishami said.
About one dozen volunteers stuffed 720 bags of pre-packed food within two hours Monday. The food goes to area children to take home on the weekends. The Frederick organization feeds about 3,000 children per week, across 29 sites, 26 of which are schools. During the pandemic, Abrishami said they expanded to four more elementary schools — Sugarloaf, Brunswick, Twin Ridge and Spring Ridge. They have about 150 volunteers.
Frederick's organization is one of eight nationally recognized chapters of Blessings in a Backpack, and the local group recently achieved that status after operating locally for seven years. Abrishami said having the support of the national office has been a big help with providing resources, such as working with a nutritionist and supplier to select the menu and managing marketing.
During the pop-up events Monday, Abrishami said volunteers talked about what events they might organize next, laughing and smiling all the while. She said gathering together reminds them of why they do what they do.
Frederick Blessings in a Backpack is still growing, and Abrishami says volunteers are always needed.
"There's never been a greater need than there is right now in Frederick County," she said.
To get involved with the Frederick Chapter, click here.